This site describes a new method of separating oil (bitumen) from oil sands without using water or other solvents: Heated centrifugation.
About this process: 
No polluted water to clean or store in tailing ponds.
75% energy savings (no water to heat). 
87% or greater oil extraction.
No green house gas emission.
Simple design: one moving part.
Continuous operation:  oil-sand goes in. bitumen and cleaned sand comes out
About contacting us:  we are RTDM Enterprises, email waterlessoil@gmail.com.
About our physicist:About our physicist:
Ben de Mayo is Professor Emeritus of Physics at the University of  West Georgia.  He came to West Georgia in 1971 from the University of Illinois, where he was a Research Associate in the Department of Mining and Metallurgy.  He received his B.S. from Emory University (1962), his M.S. from Yale University (1964), and his Ph.D. from Georgia Tech (1969), all in Physics.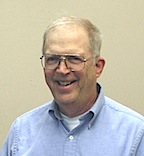 De Mayo's main research interests (besides oil sands) lie in the fields of high temperature superconductivity and in the electrical resistivity of nanoparticles of diamond, carbon, boron, zircon and rutile.  He is the author of a recent book, "The Everyday Physics of Hearing and Vision" and holds the US and Canadian patents on the waterless separation of oil from oil sands.  De Mayo has had a grant from the Georgia Space Grant Consortium-NASA for twenty years.  See https://www.westga.edu/academics/cosm/physics/profile.php?emp_id=36